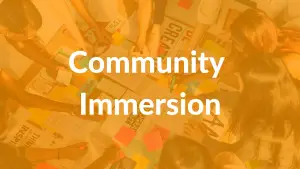 Modern social workers, unlike other professions? often prioritize the needs of vulnerable populations when they engage in advocacy.? As they address and engage in social and political decision making, they adhere to the National Association of Social Works (NASW) Code of Ethics, which require them to engage in social and political action (Jansson, 2016). They participate actively in helping people to obtain rights, services, benefits and opportunities that they might not otherwise obtain through micro policy advocacy.
What Is Community Immersion
Community immersion is a type of social work that involves working with people in their own environment. This can include working in a community center, school, or other public space. Community immersion allows social workers to get to know the people they serve on a personal level and understand their needs.
This type of work can be challenging, but it is also rewarding as it helps social workers make a difference in the lives of others. Community immersion is an important part of social work and it can help social workers to better serve their clients.
Through community immersion, the social worker gains an understanding of the community attributes and desideratum. With such understanding, they will draw on their knowledge, values and skills to help people in need and to address social problems? (NASW, n. d. ). In addition, when social workers immerse themselves in the community, it becomes an act of care and concern to serve the community. Compelling them to implement new changes, depict workable intervention schemes, and generate attainable treatment plans to satisfy the needs of the individuals, families and community.
The community that will be addressed in this paper is National City. It is located five miles south of downtown San Diego and ten miles away from the US-Mexico border in Tijuana. San Diego city is considered the top U. S travel destination, generating more than $450 million annually in state and local taxes from tourists and travelers (San Diego Tourism, n. d. ). Because of National City? s unique location in close proximity to downtown San Diego, it is considered an urban city, as defined by Jannson, with a lot of commercial activity and an impoverishment (Jansson, 2016).
Benefits Of Community Immersion
As a social worker, one of the most important things you can do is immerse yourself in the community you serve. By getting to know your clients and their families on a personal level, you can more effectively help them navigate the challenges they face. Here are just a few of the many benefits of community immersion:
– You gain a better understanding of the social, economic, and cultural factors that influence your clients' lives.
– You build trust and rapport with clients, which leads to improved communication and cooperation.
– You develop relationships with key members of the community who can provide valuable resources and referrals.
– You become familiar with local resources and services that can benefit your clients.
– You gain first-hand knowledge of the challenges and barriers your clients face on a daily basis.
By immersing yourself in the community you serve, you can become a more effective social worker and make a positive impact in the lives of those you help.
Depending on the social worker role, knowledge on the type of community and neighboring communities is crucial, especially when there is a deficit of resources to satisfy the clients? needs. As stated under code 3. 07a ? social work administrators should advocate within and outside their agencies for adequate resources to meet clients? needs,? making it necessary to know what the community is lacking and how close attainable resources are (? NASW? , n. d. ). The community is divided into three sub-communities based on their regional parks: El Toyon, Kimball and Las Palmas (Smart Foundation Plan, 2014).
All three sub-communities were visited during immersion. Kimball sub-community is the closest one to downtown San Diego and appears to be the central concentration of most new infrastructure development. In the midst of Kimball, sits the brand new Lincoln library branch that opened in 2012, new inner city bus station, Bank of America and Wells Fargo Bank. Even though, the road was under construction it did not restrict the number of pedestrians walking on the streets. The Senior Community Centre is centrally located to three senior housing facilities and a senior nutrition center in Kimball.
While senior socialize and participate in several activities such as bingo games, lunch outings, billiards, dances and arts classes held at the center, they can utilize free legal services and blood pressure checks. When interviewed one resident in the Kimball community (Dominquez, Public Communication, August 23, 2015) he expressed his admiration of all the new developments and applauded the government? s joint effort to rebuild the city. He also spoke of the benefits the Senior Community Center offers for him and his retired friends.
On the other hand, the experience was not the same when visited El Toyon and Las Palmas. There were no signs of construction or rebuilding present in either community, unlike that of Kimball. Check cashing places, liquor stores and ninety nine cents franchises were present on every other block along the eastern Chaves Avenue. There was hardly any pedestrian on the streets; however, graffiti seemed to be a problem. One resident in El Toyon who sat in the local Mexican burrito place wanted to talk, but the rest was inclined to comment on the development in the city.
An individual who claimed to be working at the Wal-Mart and has resided in Las Palmas for more than fifteen years, stated his frustration with the lack of public transportation on his street. He did not sound appreciative of the new infrastructure, rising in the city, declaring that none of the new construction happening in Kimball community is beneficial for him and his family (Sanchez, Public Communication, September 2, 2015). The distinctive reactions and responses from all three sub-communities residents ignited the spark of interest, to look further into the new developments in National City.
It appears that the rebuilding of the infrastructure in the Kimball correlates highly with improving downtown San Diego and to become a captivating site for the 34 million people who visit San Diego County each year (San Diego Tourism, n. d. ). Community Demographics Social workers can identify the needs and desideratum presented within the community based on the demographic statistics such as employment rate, household income, and schooling. In addition, researching demographic profile of many client groups will also provide the social worker guidance in addressing needs in the community. Specified under code 1. 05b, ? ocial workers should have a knowledge base of their clients? cultures and be able to demonstrate competence in the provision of services that are sensitive to clients? cultures and to differences among people and cultural groups? (NASW, n. d. ). According to the U. S. Census Bureau in 2010, the total population in National City is 58,582 with 36,911 identifying as Hispanic or Latino (of any race), including Mexican, Puerto Rican, Cuban, other Hispanic (Latinos whose origins are from the Dominican Republic, Spain and Spanish speaking central or South American countries) and 21,671 identifying as not Hispanic or Latino.
When working with clients in their communities, it is imperative to know their origin, background, spoken languages and preferred languages in the workplace to best assess what they need to achieve success. In most communities, people interact and live amongst those of the same social class and cultural backgrounds (Lee, 2014). San Diego General Plan conducted the breakdown analysis of the population and employment estimates for National City in 2010 (Smart Foundation Plan, 2014). The analysis disclosed a significant difference between population and employments among the three sub communities.
The El Toyon community had an estimate population of 20,444 with 3,699 estimate employment; Kimball community estimates a population of 17,431 with 13,362 employment estimates and Las Palmas community estimate population of 18,647 with 5,568 employment estimates (Smart Foundation Plan, 2014, p. 7. ). The highest employment estimate in Kimball with the least median income shown in Smart Foundation Plan (2014) steered this community immersion paper to investigate the schooling rate in the area. In 2010, U. S. Census Bureau shows the population of 25 years and over was 34,576 thousand.
Of that 34,576 only 10. 3 percent holds Bachelor? s degree. While there was no indication what type of employment available in the Kimball community, when comparing communities in terms of income inequality, Kimball shows to have the lowest household median income of the three ? (Smart Foundation Plan, 2014). While all three communities experienced unequal distribution of employments, the household median income in National City as a whole was 36,280 dollars, 1,653 dollars less than the household median of income in 2013 (U. S. Census, 2013).
In fact, it was estimated in 2013 that there was a 5 percent increase from 2010 of children under 18 years old living in households with supplemental security income, cash public assistance income or food stamp benefits (U. S. Census Bureau, 2013). After visiting all three communities, conclusion was drawn that Kimball community is going through an appearance makeover comprised of expensive restaurants, new high rises buildings, which providently creates a job market.
The question is, for whom these new changes are intended and who is benefiting from these jobs, because the community definitely is not, based on its median income. Community Characteristics and Culture The discovery of National City is a testimony and a manifestation of the hard working spirit in the American family known in history as Kimball Brothers. Their ambitions to seek new areas of economic exploitation led them to the development of the second oldest historical city in the San Diego County, and became the two dynamic forces behind the development of National City (Klimko, 1998).
Frank Kimball dedicated effort rewarded San Diego area with the railroad for the first time, establishing Santa Fe Rail Depot located on 922 West 23rd Street in National City, as the terminus of a transcontinental line in October 1880 (National City Depot, n. d. ). The greatest benefit of this city is its location. Conveniently locate on both sides of the Interstate 5 and 805 which allow the residents and visitors who visit the San Diego to easily commute. National City appears to undergo a rebuilding phase after thirty year? declaration made by the former mayor Kyle Morgan in 1986, for an ambitious redevelopment plans for the city (Alfonso, 1986). The welfare office locates on 8th street is available for the public to use computers, for filling the food stamps application forms with the assistance of a Hispanic bilingual employee.
This particular office is convenient for those who reside in the lower income building located five miles away. Kaiser Permanente Hospital is anticipated to open its new state f the art Central Hospital in 2017 on the Claremont Mesa Boulevard, which will provide the affordable and high quality health care to members in San Diego County. As a social working any community, awareness of new hospital opening close by the community will help him or her to seek high quality care for the clients. In the meantime, Kaiser Permanente has pharmacy and vision clinic locate ten miles from El Toyon and Las Palmas. Parks and recreational facilities are available in all three communities.
Each community has its own park, which host recreational activities all year round, such as youth summer camps, sports leagues, art programs for all ages. Multipurpose facilities locate in the parks are available for rental to the community on the first come, first served basis for baby showers, birthday and graduation parties. Absenteeism of healthy grocery stores in the community appears to be a challenge. Well informed social worker of basic resources such as food and water supply is as important as familiarization with medical supplies.
Especially, if the social worker focuses is to reduce obesity and promote healthy living in the community. Another major challenge encounter by the lower income recipients in National City is the long waiting period to get into the low income home. Participants have to meet the eligibility to be placed on the waiting list, which can take up from eight to ten years to be at the top of the list (Section 8 Rental Assistance. n. d. ). The Housing Authority of National City,?
Section 8 Rental Assistance Program oversees the five low income apartments in the community. The department administers the housing choice voucher program for eligible low-income households and seniors that either live or work in National City. With the increasing focus on ethics in modern social work demands and while National City community may appear to be less convenient for a place to work, any willing social worker will have a great opportunity to impact a lot of lives. It is very important for the social worker to attune to the needs of the community.
The essence of the present challenges in National City will build resilience and endurance for both the social worker and the community if both parties willingly work together and cooperate with one another. As a visitor, it is a great place to learn history and enjoy the weather: whereas someone looking for a place to live, you have to be a motivated individual to ameliorate the current conditions in this community.
Frankly, this community presents room for growth; it will be just the matter of time for things to turn around, remembering that ? Rome was not built in a day?. Community Decision-making National City is run by Formal Leaders and Informal Leaders, functioning separately. The formal leaders include the mayor, vice mayor, three council members, chief of police and the city engineer planer. Mayor Rob Morrison holds few key positions within the San Diego County. His approach to developing this community is to benefit not only National City residents, but all reside in San Diego County. No knowledge of the Vice Mayor background where as all three Council Members are longtime residents of National City.
There is a Community and Police Relations Commission comprised of eight individuals appointed by the Mayor with the approval of the City Council. The sole purpose of this Commission is to provide a platform where the community and the police force meet to discuss issues and concerns, in regards to the police force conduct and any pending disputes among the citizens. Each community holds its own council meeting monthly, where all, the majority of formal leaders is mandatory to attend to hear what is happening in each community.
National City Engineering Division Program plays a vital role in the city council meetings. They are responsible with carrying out planning, designing and execution of the City? s Capital Improvement Program. Informal leaders include local pastors, teachers, PTA association who helps to run the city by working together to organize city cleaning, food drive, receive blankets and clothes donations for the homeless population in the area. Pastors throughout the communities open up their church buildings for Alcohol and Narcotics meeting at a minimal charge.
There seems to be more cohesiveness of the parties involve at this level. Reflection and Conclusion In any community beautiful homes, new installations, high paying occupations and well-structured neighborhoods is a reflection of its residents and its leaders. Additionally, people are evaluated people according to the kind of work they do and how much money they earn. While giving greater respect to those who possess prestige occupation such as lawyers, doctors, professors, executive careers, less recognition is given to the ones with more modest jobs.
Due to a central concentration of the infrastructure development in one particular area of National City, the community is experiencing an unfair division of jobs and employment opportunities. While El Toyon and Las Palmas encounter employment deficit, Kimball is brimful of works because of new construction and advanced establishments occurring in the area. As a social worker working in National City, it would be incumbent to concentrate on disseminating information about employments qualifications.
The social worker needs to help people in the community to qualify for the jobs and advocate for a policy to give first hire opportunity to its residents. If there is lack of credentials and qualifications, the social worker shall advocate for affordable programs where people can attend to attain them. While doing this research, the author was in a transition to move from Oxnard, California to San Diego and in searching for an apartment.
As someone who moves just two weeks ago into a city locates right after National City going south of the Interstate 5, it would not be hard at all to work in this community. It will be a challenge for a non-Spanish speaking individual, considering the majority of the population is Hispanic and Latino. In contrast, when one is equipped with the right tools and surrounded by supportive and experienced people, influences on implementation of new changes and creation of new jobs can happen.